Trip Report
Culture trip in Venice and Roma and sportive trip in the Alpes.
Enjoying italien culture and the french Alpes
+ 7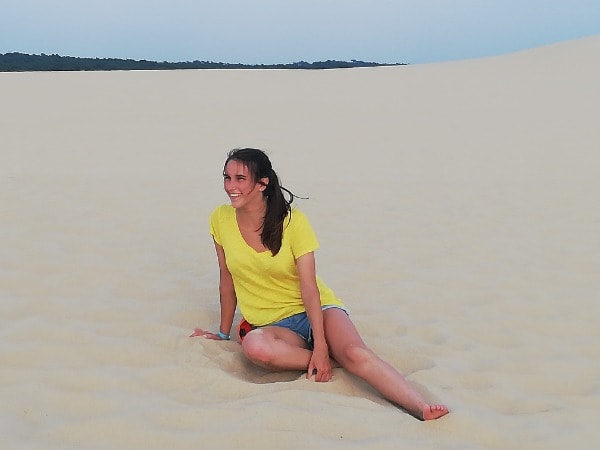 About Me:
I am a 23 years-old belgian girl. I have been living and studying in Brussels. I am passionate about sciences and nature so I decided to study bioengineering. I like meeting new people , go to new places, have fun and enjoy life. I like v... read more
EuropeFrance, Italy10 days / June 2016
Highs & Lows
Walking in Venice and hiking in the french Alpes!
High temperature in our AIrbnb in Roma
The Alpes
My backpacking trip through the Alpes and Italy started from Brussels. Because we did not have a lot of money, we took a blablacar to the French Alpes. This platform of carpooling is very useful and popular in France. The station we went it the Alpes is called Avoriaz. It is actually a famous ski station part of one of the biggest ski areas of the Alpes. It is located at 1800m above sea level so during the winter snow can last longer than in the other ski stations located lower. However, I am used to go there during the winter, this time I went in summer for hiking. The main activities in Avoriaz during the summer is hiking and mountain biking. Although Avoriaz is more a winter resort, I went there because my boyfriend had an apartment where I could stay for free. I had been many times to the Alpes, and I think that Avoriaz is a nice place to stay but I rather prefer small villages such as Samoens, Serre Chevalier, Saint-Luc (in Switzerland) which are more authentic villages. During summer, we enjoyed hiking around Avoriaz because on our way we enjoyed the view and nice rivers and waterfalls. Also, we could see Avoriaz from another perspective as there was far fewer people in the station than during the winter. I suggest going to Morzine which is a big and authentic village at 15minutes from Avoriaz. What is also interesting is to take the car and go to national parcs in the Alpes. They are usually really beautiful and if you want you go for a few days hike and sleep in shelters. We stayed only 5 days but if you really want to enjoy the Alpes and move around you can stay there for at least 2 weeks.
Venice
Because we did not have a car, we decided to hitchhike from Avoriaz to Milano. We had to wait a long time but we finally meet nice Italian that took us to Milano. In Milano, we took a train to go to Venice. Venice is such a beautiful and romantic city. We stayed there 3 days. We enjoyed walking in the small streets, going to nice places to eat dinner or even icecream. In Venice, you have lots of very beautiful places and monuments to see. The architecture is incredible. Actually, all the city of Venice is interesting and worth to visit. It is a cultural city with lots of canals. We drank lots of Sangria, wine, and tinto de Verano. We also enjoyed all the small shops, we even bought two Venice masks. Actually, we did not slept in Venice itself because it is quite expensive to sleep in Venice. We stayed at an Airbnb in a city next to Venice and we took the train from there to get to Venice, it was really easy. There were many people in Venice but I would suggest to anyone to go visit this city as it is very unique.
Roma
To go to the Alpes, we took a nightbus in Milano. We stayed 4 days in Roma in an Airbnb that had no air-conditioning. It was really complicated to sleep because of the heat. After this experience I would suggest to anyone to pay attention to that when travelling there at summertime. Roma is very nice place for culture. You have lots of very old and historical monuments. We enjoyed walking all around the city, we passed through all the famous monuments and areas such as the coliseum, Saint Stone Basilica, Trevi fountain, the Pantheon, Piazza Navona, Piazza di Spagna, Venice Square. We also went to the Vatican which is very small city in Roma, seat of the Roman church and residence of the pope. We also enjoyed all the food there. We ate lots of pizzas, pastas, and ice-creams. During the lunch time and the biggening of the afternoon it was hot, so we usually stayed at a place to eat and rest, or we would go to a museum to be into the shade. 
3 Nights: Rome

Culture, Architecture and food
What would you have changed?

I would have booked a room with air-conditioning in Roma. If I had had the opportunity I would stay longer in the Alpes.

Anything go wrong during the trip?

We did not have or driving licence and in the Alpes it is way better to have a car if you want to move around and do other hikes.

How was the food?

In Italy and in France the food is really good. In France, I suggest buying your bread in the morning in a bakery 'shop. In Italy, I recommend the pizzas, pastas, and ice-creams. Wine is really good in Italy and France so if you like wine go for it.

What tips would you give a friend?

I would recommend my friend to just walk around the city of Venice and Roma as walking through the streets is actually the best way to visit a European city.

Any surprises?

No air-conditioning in our Airbnb in Roma and the heat in Roma.

Booking details?

Airbnb is a great website to book rooms in Italy. To save money, I suggest booking a room outside Venice and to take the train from the place where you booked your room to Venice.